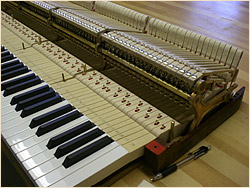 NEW KEYS ON ORIGINAL FRAME
Complete set of new keys duplicated in our keyboard manufacturing facility, and installed on the original frame. This process can save a good deal of time over the work involved with bedding and fitting a new frame.
Services include:
Old frame with new quarter-sawn balance rail and new inlaid front rail.
All new key pins and frame hardware.
Action height adjusted per string height specifications.
New keys with choice of plastic or ebony sharps.
New capstans installed (optional).
New backchecks installed (optional).
New key end felt installed (optional).