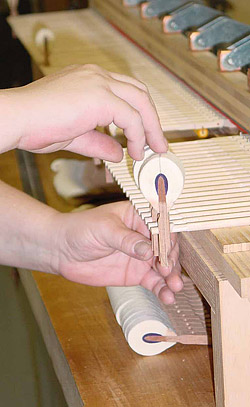 GRAND HAMMER PRE-HANGING
New grand hammers pre-hung on new shanks. Burn-in and travel time will be minimal. Personal attention to selection of hammers and shanks ensure that action geometry and strike point will remain correct, avoiding any regulation or tonal problems.
Pre-Hang Services options:
Each flange center is measured to determine resistance in grams.
Shanks are sorted according to resistance, and all pin centers are lubricated.
Standard tapering (wood molding), or full tapering (molding and felt).
New hammers hung to new shanks.
Factory style tail arc and squaring to backchecks.