ORDER ONLINE
Piano Technicians and Dealers can
order online, or phone us toll-free at
1-800-347-3854
New Items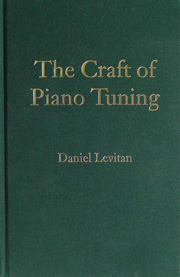 THE CRAFT OF PIANO TUNING

by Daniel Levitan
This is a complete guide to the craft of piano tuning, covering both its aural and manual aspects. At the heart of each of the book's two sections -- The Tuner's Ear and The Tuner's Hand -- is an essay explaining in detail the standard practices of piano tuning in terms of their underlying acoustics and mechanics. Supplemental readings (including intentional mistuning, efficient tuning, minimizing physical stress, and hearing protection) expand on the essays and provide a wealth of practical information and tips. 252 pages. Hardcover. #BKSP-53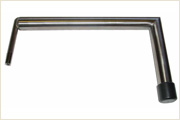 THE LEVITAN PROFESSIONAL TUNING LEVER
Patented "C" shape not only eliminates flagpoling, for unprecedented control of the tuning pin, but also allows a more ergonomic tuning position on grands, with both hands just above the keys. No need to lift the lid or change technique in the high treble. Welded tubular stainless steel construction for maximum stiffness.

Fits all grands, as well as verticals without large overhanging lids. In the field, carry a conventional "L" shaped hammer as well for stringing, turning glides, quick pitch raises, etc. #TH-9LP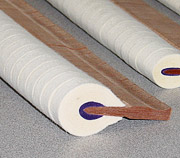 ABEL SPECIAL PRESSING HAMMERS
These new German-made hammers are manufactured with the highest quality standards to Pianotek's exact specifications. A specific colder temperature and slower pressing time coupled with the use of the newer bio-felt produce a hammer that is more resilient, with a large round tone that is very lively. They provide a warm tone, lots of sustain, with a classic American sound ideal for Steinway, Mason & Hamlin, or virtually any grand. This is a state-of-the-art hammer that is full-bodied with superior carrying power, particularly in the 5th and 6th octaves, and requires very little or no voicing upon installation.

If you have a hammer job on the horizon, we have Special Pressing samples pre-mounted to Steinway-style shanks & flanges that we can loan to you for your customers to preview. #GA-S5SP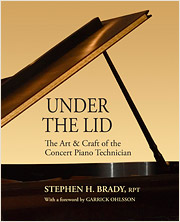 UNDER THE LID: The Art & Craft of the Concert Piano Technician

by Stephen H. Brady, RPT
The first book ever focused specifically on the techniques required to be concert technician, providing detailed, practical advice for technicians on the artistry of tuning, regulating, and voicing for concerts.

Chapter 1: Preparing the Concert Piano includes topics such as a concert checklist and dealing with the unexpected (i.e. broken strings). Chapter 2: Tuning for Concerts is about using tuning techniques and mastering environmental issues with the goal of achieving a "breathtakingly fine tuning". Chapter 3: Regulating for the Artist is loaded with detailed text and photos of all aspects of grand regulation. Chapter 4: The Art of Tone Regulation contains way more valuable information on voicing than seen elsewhere. Chapter 5: Concert Subspecialties focuses on differences between the solo recital, chamber music, concerto performances, etc. Chapter 6: The Human Factor delves into the technician as an artist. Paperback. 257 pages. #BKSP-50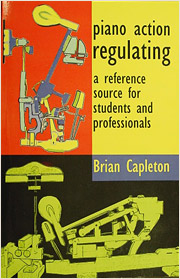 PIANO ACTION REGULATING: A Reference Source for Students & Professionals

by Brian Capleton, PhD
This guide takes the unusual approach of presenting action regulation as it relates to the pianist and pianistic tests. Although step-by-step details relating to universal principles are meticulously presented for the technician, the author emphasizes the importance of understanding the broad scope of the process.

Topics include: universal operating principles, friction & touch, technical tests, pianistic tests, upright actions, grand actions, Steinway grand action, Bluthner type action, simplex action, very fine regulating techniques, and diagnosis. 116 pages. Paperback. #BKSP-48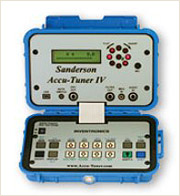 SANDERSON ACCU-TUNER IV
Same incredible accuracy as previous models, but is now in an even smaller, nearly indestructible, polycarbonate case. This new case seals out not only water, but will also keep out any glues or lubricants you may have around. Just 7" x 5" x 2" when closed. Weighs 2.2 pounds (1 kg). Your choice of blue, black, or red case.

Among its many improvements:
• Larger LCD screen.
• More built-in memory.
• More generic & custom tunings and temperaments.
• USB connectivity -- easily uploads to your PC.
• Signal Strength Meter.
• Built-in manual.
• Software updates are free.

It even includes a built-in manual for reference on-the-go, and software updates are free. #SAT4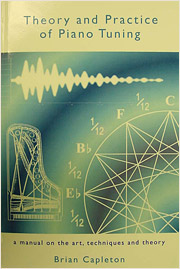 THEORY & PRACTICE of PIANO TUNING: A Manual on the Art, Techniques and Theory

by Brian Capleton, PhD
Not since Owen Jorgensen's Tuning, has our industry welcomed such a well-constructed and comprehensive resource as Brian Capleton's new book on the theory and practice of piano tuning. Organized into 3 large parts over 21 chapters, the book includes background theory, advanced tuning practice, and advanced theory covering subjects pertinent to the practical and the scientific. An extensive resource for both novice and veteran, it is a wonderful addition to both personal and public libraries. 626 pages. Paperback. #BKSP-47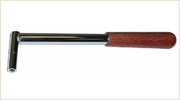 THE LEVITAN TUNING LEVER ("Classic")
A new concept in tuning hammers, developed by well-known NYC technician Dan Levitan, RPT, former tuning editor of the Piano Technicians Journal.

Unlike typical tuning hammers, the Levitan Classic's shank is joined to the head -- a point of maximum strain -- with a sturdy, reinforced weld rather than a threaded joint. An extremely stiff but lightweight tubular steel shank extends under the entire length of the handle. The result is a tool with very little flex and a noticeably direct sensation of connection with the tuning pin.

The dimensions of this universal tuning hammer are calibrated to fit virtually all pianos encountered in the field. The rosewood handle has been carefully shaped for equal comfort on both verticals and grands, whether gripped in the middle or at the end.

• Head angle: 7-1/2 degrees
• Underside of shank to tip thread: 15/16"
• Shank diameter: 3/4"
• Overall length: 11"
• Weight with tip: 9.5 oz.
• Watanabe #2 Star Tip included.

#TH-4L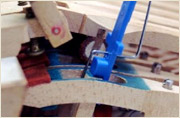 NuckL Jac Grand Jack Alignment Tool
The NuckL Jac truly simplifies the task of aligning grand jacks. Simply adjust the jack until the small side wing of the tool meets the back of the adjacent knuckle core.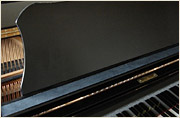 BLACK ECSAINE Synthetic Buckskin
Pianotek offers the same synthetic buckskin used by leading piano manufacturers worldwide. Now available in black for use on music desks, ecsaine provides a durable cushion with a sleek, modern look.

Sold by the lineal yard (1/4 yard minimum) in a 54-inch width. #FEB-223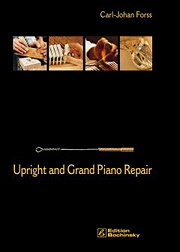 Upright and Grand Piano Repair

by Carl-Johan Forss
This highly detailed textbook focuses on piano repair and rebuilding. Learn how to repair soundboards and bridges, replace pinblocks, make your own springs, hang hammers, repair shanks, and much more. It even includes a 13-page step-by-step section on how to evaluate a piano. It features exercises and worksheets, as well as numerous b&w photos, charts, and drawings, and is loaded with technical and historical information.

This well-illustrated textbook is an English translation, with most technical terms also printed in Spanish and German. 512 pages. Hardbound.

(Also available: Upright and Grand Action Regulation by Carl-Johan Forss)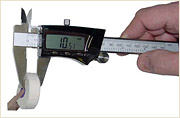 3-MODE DIGITAL CALIPER
A quick touch of the mode button instantly converts inches to metric to fractions. Standard 6-inch caliper length. #MIC-147
• Heavy Duty Metal Housing.
• Auto On/Off Feature.
• Accurate to 0.001"
• Resolution 0.0005" or 1/64" or 0.01 mm.
• Stainless Steel Construction.